The rise of the digital consumer, shifting demographics, rapid urbanization, environmental crises, and a global pandemic. These are just a few of the major macro-forces that drove disruption in the CPG industry this past year.
Pilot44 monitors category and industry disruption across three major areas – new business models, new channels, and new experiences – to help our clients build informed innovation roadmaps and make sure they never miss an activation opportunity.
Based on our research, we've put together a list of the trends we think will fuel the next generation of CPG industry growth. In this article you'll learn:
Which trends will disrupt the CPG industry in 2021
Where venture capital money is flowing
Which categories will have the most opportunity for activation



Ready? Here's what to watch out for in 2021.


1
. Sustainability and the circular economy
Sustainability and responsible consumption are gaining traction globally with consumers and companies alike. 87% of consumers have a more positive image of a company that supports social or environmental issues. Over 70% of consumers would pay an average of 35% more for eco-friendly brands. What's good for the planet has become good for business.
Brands are taking up the challenge to create innovative solutions that reduce waste while creating new revenue streams and driving commercial efficiency – from reverse vending machines that reward recycling to refilling stations for shampoo bottles to reduce single use plastic.
Startups creating sustainable packaging and new recycling tech have attracted $850 million in VC funding. And there has been $80 billion in funding into the broader cleantech and sustainability industry.
Who it's for: The sustainability trend is impacting every category as CPG packaging is a significant contributor to the global plastic crisis. Time to come up with a sustainable packaging strategy now.

2. Rise of livestreaming and "shopatainment"
As the lines between social media and ecommerce continue to blur, it's no surprise that social shopping was one of the biggest trends of 2020. Platforms like Facebook and Instagram rolled out ever more seamless "buy now" features, making it easier than ever to shop while you scroll.
This next wave of social commerce will leverage the rise of livestreaming, an experience that brings together three of the biggest trends in ecommerce: social media, live video, and influencers. Livestream shopping essentially turns shopping into entertainment (or shopatainment). It takes advantage of every aspect of the sales funnel, but compresses it into an interactive live experience that is fun and often features popular influencers or celebrities.
Livestream shopping is already a $137 billion a year industry in China, doubling in size from 2019 to 2020, and the trend is poised to take off in other markets too. Big brands like L'Oreal are experimenting with livestreaming in the US and Amazon recently launched Amazon Live. Beauty brands are using TikTok's livestreaming feature, which allows users to buy virtual gifts, and leaning into Facebook Live as a live shopping platform.
VC funding has poured $12.8 billion into livestreaming platforms and $4.8 billion into social commerce.
Who it's for: This trend has taken the beauty and fashion industry by storm in China since these categories are highly visual and influencer driven. But this is just the beginning. The intersection of social media, live video, and entertainment will shape the future of ecommerce.

3. Telehealth and virtual care
After years of predictions, 2020 was the year that telehealth and virtual care finally took off. At the beginning of 2020, 0.1% of medical visits each week were conducted via telemedicine. By late April, this number increased to nearly 14% and has continued its trajectory ever since. We also saw some pretty massive acquisitions and consolidation in the industry this year – like Teladoc's $18.5 billion acquisition of Livongo – as well as an influx of digital health startups introducing remote diagnostics and virtual coaching tools for everything from personalized probiotics to skincare.
The virtual care model can be applied across pretty much every category of personal health. Skincare has continued to roll out new innovations, such as L'aroche Posay's recent foray into acne diagnostics. And Teledentistry is also on the rise. Take Colgate which used a little creativity to connect their oral care products to the mindfulness movement.
Telehealth and virtual care are part of the growing global wellness economy, which is currently valued at $4.5 trillion. VCs have taken note. Total health innovation funding for the first half of 2020 hit $9.1 billion, up nearly 19% compared to the $7.7 billion invested during the same period in 2019.
Who it's for: This trend is closely tied to the demand for personalized products and experiences, so any brand operating in the personal healthcare space should take note – particularly vitamins and supplements.

4. Esports and Gaming
Video games and esports are nothing new. This giant industry is estimated to be worth around $160 billion with esports alone expected to generate $1.8 billion by 2022. And these industries are attracting enormous audiences – bigger than the music and movie industries combined. There are over 2.7 billion gamers worldwide, smashing the stereotype that gamers are only young and male. But, despite this massive captive audience, most brands have yet to engage with this industry.
The takeaway? There are more opportunities for brands to leverage esports and gaming to build brand affinity, customer loyalty, and drive sales. In 2019, over $450 million in esports revenue came from these lucrative brand partnerships. And over $17 billion has been invested in video games and esports startups in the past 5 years. We've also seen the emergence of gaming-focused VCs which indicates this is a hot area for VC investment.
Who it's for: Gaming is a massive market with a place for every category. This includes female-focused brands as the industry makes strides in promoting inclusivity. Global esports company Gen G and female-focused social networking app Bumble partnered to launch an all-women esports team, a big step forward for women in gaming. Other Non-endemic brands like State Farm and Wendy's are building a strong presence, showcasing how to integrate into the world of gaming in an authentic way. And they're serving as a great example to CPG brands who might be thinking that there's no place for their brand in gaming.
5. The next generation of direct to consumer
Since 2010, DTC brands have flooded the market thanks to abundant venture capital, low competition, and advertising arbitrage. But in the last decade, the landscape has changed dramatically. The big success stories like Dollar Shave Club have been acquired and a long string of startup failures have followed in their wake. The takeaway: it will be far harder to become a DTC standout success in 2021. Categories are saturated, costs for acquiring customers online have skyrocketed, and consumers expect orders to be fulfilled faster than ever before.
Though VC deal flow has slowed a bit as the market matures, DTC brands have still raised close to $10 billion across more than 600 deals since 2018. In addition, VCs have poured over $11 billion into the logistics infrastructure supporting these brands including microfulfillment, warehousing as a service, digital storefronts, and last mile delivery.
Who it's for: All categories have been disrupted by DTC, so all brands should be aware of what the next generation of these brands will look like. The playbook that won a few years ago – millennial-friendly messaging, pastel colors, and a heavy reliance on social media – is not going to cut it. To achieve sustainable growth, DTC brands will need to leverage more sophisticated data modeling and attribution, explore new channels – including traditional brick and mortar, and form unique strategic partnerships and collaborations.

6. Online to Offline Retail (O2O)
Online to Offline (O2O) is a new business model which requires using both online and offline channels as part of a seamless strategy. At its core, it's a strategy that finds consumers online and brings them into real-world stores (or vice versa). The trend has already become a core strategy for leading retailers in China after Alibaba's Jack Ma coined the concept of "New Retail" back in 2016.
A look at Alibaba's HEMA stores provides a peek into the future of retail here in the US where the lines between online and offline will cease to exist. At HEMA stores, shoppers enjoy a completely integrated smartphone-centric experience: getting product information by scanning QR codes on product labels, automated checkout enabled by RFID tags, payment through Alipay, and an extended shopping experience with the download of an app that allows online ordering and free 30-minute home delivery within a 3 km radius of the store.
O2O requires an intersection of several technology trends including AR, QR codes, digital payments, and on-demand delivery, all of which have attracted billions of dollars in funding and have been growing in consumer adoption during the pandemic.
Who it's for: Every retailer and brand should be thinking about their O2O strategy and how they can create seamless and memorable experiences across channels, both physical and online.


7. The rise of first-party consumer data
First-party data is any data that a brand gathers directly from its customers or potential customers. Thanks to privacy regulations like the General Data Protection Regulation (GDPR) and the California Consumer Privacy Act (CCPA) as well as the intensifying assault on cookie tracking, first-party data is becoming more valuable than ever. CPG companies in particular face big challenges gathering first-party data because they have historically sold their products through third-party retailers and do not have that direct connection with the end customer.
Luckily, there is a growing market of startups helping brands and consumers navigate this new era of data privacy. After all, data is now the world's most valuable resource ahead of oil. Offering your customers value in exchange for the insights and advantage their data gives you is just good business, no matter what category your business is in.
Over $3 billion has been invested in new platforms to collect, store, and activate first-party data as well as new tools to enhance data privacy.
Who it's for: As third-party cookies go away, first-party data will become increasingly critical for personalized marketing across every category. Marketers will need to start thinking differently about how they engage with consumers, which will require a new value exchange built on trust and driving opt-in. Delivering experiences over interruptions is the key to collecting the permissions required to start building meaningful relationships with consumers.

8. Smart Products & Packaging (IoT)
The number of connected devices continues to grow at a staggering pace. Conservative estimates predict there will be nearly 42 billion connected "things" generating 79.4 zettabytes of data by 2025.
From a consumer standpoint, the smart home has been at the forefront of IoT connectivity. Everything from speakers to ovens can now be controlled via voice or mobile app, all while collecting data to optimize use and experience. Smart connected beauty and personal care devices are also seeing a surge in growth. Devices like smart electric toothbrushes or personalized fragrance diffusers allow customers to get a more personalized treatment while providing brands with valuable consumer data.
If brands are not ready to get into the device space just yet, connected packaging also offers valuable benefits by letting customers interact with products both in store and post purchase. While QR codes are one way to do this, more advanced solutions like NFC are becoming more cost effective and are enabling more robust experiences. Japanese company Toppen recently launched a smart packaging solution specifically for the beauty industry to connect with consumers through the products themselves.
So far, over $8.5 billion has been invested in smart home technology and connected devices.
Who it's for: Connected devices and packaging are popping up across nearly every category from skincare devices, connected toothbrushes, and home cleaning robots to personalized fragrance diffusers and more. Entering the connected device space is complex as it requires different thinking around business models and revenue streams that can be challenging for traditional CPG manufacturers.
9. AI-powered personalization
AI is having a powerful impact on the way marketers engage with consumers. Personalization platforms and guided selling ensure that every consumer touchpoint – on your website, via social media, and in store – is personalized.
In CPG where SKUs have been growing exponentially, consumers are facing decision fatigue and can greatly benefit from an on-demand, always there digital advisor to help and recommend the best products for them quickly. For example, take Samsung spinoff Lumini. This personalized AI skincare assistant will scan your face, identify common skin problems like acne, wrinkles, or large pores and recommend the best skincare products or even connect you to a dermatologist. All in about ten seconds. And the technology can be integrated into smart mirrors, kiosks, or even an at-home product.
But AI-powered personalization isn't just for beauty brands. Snaps, which gives enterprise customers real-time assistance across chat and messaging, promises real business results: 50% reduction in service volume, 70% improvement in customer satisfaction, and 3 times the sales conversions.
To date, most AI applications in CPG have been to support specific services such as an AI-powered skin diagnostic. But AI reaches its full potential when it's integrated across the entire enterprise. This is something that CPG brands have struggled with due to the decentralized nature of the business, which makes it difficult to harness the data required to unlock AI at scale. CPG companies that are winning in AI have focused on critical areas, such as developing the right talent base, ensuring effective data strategy and governance, and building the right data and digital platforms.
Brands that invest the time and effort in these areas will build a strong competitive advantage. So far $2.1 billion has been invested in AI personalization startups.
Who it's for: Today, consumers expect every interaction they have with a brand to be personalized, so no category is exempt from this trend. Personalization has been brewing for years and brands and retailers that are not actively experimenting and growing their capabilities will get left behind as AI continues to progress.

10. AR/VR and immersive retail
Immersive apps and mobile experiences like virtual makeovers, diagnostic apps, and filter overlays are exploding globally. These apps are amassing thousands – in some cases millions – of users and quickly expanding their features to include advanced selfies, skin diagnostics, live chat, and more.
TikTok's new augmented reality (AR) brand effect allows users to add interactive visual effects from advertisers to their TikTok videos that interact with the physical environment around them. What could this look like? A car could zoom the length of the kitchen table or the creator could interact with an advertiser's mascot as it bounces around the room, to name some examples.
VCs have poured $15 billion into AR, VR, and MR startups, which have seen a $45 billion market valuation.
Who it's for: AR/ VR have driven the most disruption in the skin care and beauty categories to date, but the technology is impacting the way consumers experience products as well as content and ads. This will enable immersive experiences around any product or category.


Get in touch
to learn more about emerging trends and how your CPG brand can make 2021 the year of opportunity.
Pilot44's Disruption Radar service combines in-depth research and strategic analysis to help categories and industries see around corners and spot the emerging consumer trends, new products & services, and digital technologies that will impact their business.
It is focused on answering key questions, such as:


How are emerging digital technologies and experiences changing the way brands engage consumers?
What startup brands are emerging that might threaten my business and steal market share?
How can I leverage new technologies to unlock new business models and revenue streams?
And most importantly, how should I prioritize my innovation roadmap to best grow my category?
Pilot44's data driven methodology uses VC funding and startup activity as a north star, while also looking broadly across 6 signals of disruptive innovation. This approach lets us separate meaningful opportunities from passing trends.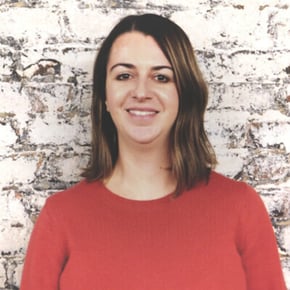 Mary Lague
Mary is the VP of Research at Pilot44 and leads our research and insights group. She brings over a decade of market and consumer research expertise spanning business and product innovation. Known for her strategic insights and forward-thinking approach, Mary is dedicated to guiding brands toward successful innovation and sustainable growth. She is a seasoned advisor in helping global brands spot disruption and a trusted ally in navigating change.