Learn how companies like PepsiCo and Ulta Beauty are turning the disruptions caused by Covid-19 into opportunities for innovation. And get actionable takeaways you can apply to your own challenges.


Fires. Election. Economy. Pandemic. No matter your industry, 2020 has been a year for the books.
While the upheaval has brought extreme challenges, it has also been a catalyst for innovation. We've watched businesses pivot to address supply chain disruptions and dramatically changing consumer behavior. Some have floundered, but many have seized these opportunities to reinvigorate – and in some cases reinvent – their brand.
In this post, we'll explore the different ways brands are pivoting to respond to these challenges and key takeaways for how to approach disruption in your own business.


The Great Consumer Shift
Covid-19 has had a deep and potentially lasting impact on consumer behavior. Some of this is readily apparent in empty shelves in the toilet paper aisle or grocery carts packed with several week's worth of food. Consumers are stocking up on essentials, shopping less frequently, and focusing more on health and hygiene.
But there have been less obvious shifts too. Consumers are trying new brands in unprecedented numbers. They're shifting to mostly online shopping and intending to stay that way. Concerns over safety and conveniences like delivery and curbside pickup are driving their decisions.
According to a recent McKinsey survey:
There has been a

15-30% growth in consumers who purchase online

in most categories
75% of consumers said they had tried a new shopping behavior

with most intending to continue beyond the crisis
People are planning to spend less on inessentials

like jewelry or apparel, across income brackets. And

they're switching to value brands

for basics like shampoo.
While much of this behavior is driven by anxiety and restriction, there's a silver lining for brands. As consumers are radically more willing to try new brands, there's space for new brands and products that can successfully pivot to meet their changing needs.


Supply Chain Disruption
As consumer demand has shifted, brands have been rapidly shifting their supply chain to meet immediate needs. But, as panic buying has abated, some products have recovered more rapidly than others. Back to that empty toilet paper aisle.
Manufacturers across most categories ramped up production to meet demand (or tried), but everything from packaging to materials felt the constraint. Companies responded in different ways to get products back in stores:
Added capacity to their most popular items to meet immediate demand
Reduced the number of SKUs to speed up production and simplify the supply chain
Gained a deeper understanding of vulnerabilities in their suppliers' supply chains laddering all the way up
And some companies said they'll make these changes permanent, even after the crisis is over."Many of those SKUs that were suspended won't come back," according to Burt White, Executive Vice President of CPG and Retail at Maine Pointe in a conversation with Supply Chain Dive.
But this isn't just doom and gloom. It also means there's more room on the shelf for innovation.


Pivot In Action
While the pandemic has caused plenty of disruption and lots of companies have approached it with a "putting out fires" mentality, some brands are using this moment to reinvent themselves.
Successful brands are recognizing the opportunities around new business models, products, and partnerships that can stretch their resources, meet changing consumer demand, and even reach new audiences.
Let's explore some examples.


1. Unilever joins forces with Grab to support drivers and small businesses
Unilever is partnering with SE Asia super app Grab to meet customer demand and provide a diversified source of income to small business owners.
How does it work? Customers will be able to purchase their favorite Unilever brands on the Grab app. For example, ice cream. Orders will then be fulfilled by the closest Unilever retailer – often an independent corner store or ice cream cart with no previous online retail presence.
Unilever will also use Grab's GrabExpress fleet to transport stock from warehouses to retailers. Not only does this give Unilever a way to respond to real-time demand for products, it also creates diversified sources of income for Grab's driver partners.
"By bringing together our resources – such as Grab's platform and consumer reach, and Unilever's product range and network of retailers – we've identified many areas of synergy that allow us to better serve the needs of consumers while creating more opportunities for small businesses and our delivery partners," said Russell Cohen, the group managing director at Grab, to The Drum.
Key Takeaway: Partnerships allow brands to pool their resources to address the key challenges faced by both customers and partners. They offer the opportunity to offer new goods and services to existing customers or even to reach a new audience.
2. PepsiCo goes DTC to meet consumers' new normal
In May, PepsiCo announced the launch of PantryShop.com and Snacks.com, two direct-to-consumer websites where shoppers can order their favorite food and beverage brands.
On PantryShop.com, consumers can order specialized bundles containing PepsiCo's top-selling pantry favorites from brands like Quaker, Gatorade, SunChips and Tropicana, within categories like "Rise & Shine," "Snacking," and "Workout & Recovery."
These pantry kits have been thoughtfully curated based on affinity research and are designed to meet consumers' new normal, such as working and exercising from home and homeschooling. They're easily accessible through a seamless, mobile-optimized ordering experience: with just a couple of clicks, shoppers can check out with free standard shipping.
PantryShop.com was developed completely in-house leveraging end-to-end capabilities built from the ground up by PepsiCo's eCommerce team. And it was all done in just 30 days, Forbes reported.
The result? In October, PepsiCo reported that their DTC sales nearly doubled in Q3.
Key takeaway: Recognizing that consumer behavior and attention has shifted and meeting them where they are is a key factor in a successful pivot.
3. Presto launches free contactless dining kits for restaurants
Presto – the restaurant industry's leading enterprise technology platform – quickly pivoted in the wake of Covid to develop a technology solution that would help restaurants all over the country reopen quickly and safely.
The Contactless Dining Kit lets diners use their mobile device to scan a QR code that allows them to browse the menu. They can also use their personal device to order and pay, reducing their contact with shared physical surfaces and wait staff.
Within two weeks of launch, the Contactless Dining Kit had over 5,000 orders across all 50 states and 22 countries.
The trickle down effects of this were huge: restaurant patrons felt safer dining out, wait staff felt safer back at work. Restaurants saw faster table turnover, higher than average check sizes, and had an easier time meeting social distancing guidelines. This has led many in the restaurant industry to wonder if contactless tech, which started as a pandemic response, is here to stay.
"If things settle down to what we had before, you have a population of people whose behavior has changed," said Brian Levine, VP with Mobiquity in a conversation with Restaurant Business. "If you're a company that was ready for this, you're potentially getting a lasting behavior change because people will have overcome the negative of having to create that account and having to use it for the first time."
Key takeaway: A key marker of a successful pivot is offering services that seek to solve the challenges experienced by your customers. Pivoting to use your expertise to build tools that help your customers adapt and succeed in this new normal can have lasting effects for your own business, even positioning you to be ahead of the curve when things settle down into a "new normal".
4. United partners with Clorox to reassure travelers and support a safer travel journey
Covid-19 has disrupted global travel plans for months. As of late April, 100% of destinations had some form of Covd-19 travel restriction. "Never before in history has international travel been restricted in such an extreme manner," according to a report released by the United Nations World Tourism Organization (UNWTO).
Now that restrictions have been lifted or lessened, many travelers still feel uneasy about the prospect of flying or staying in a hotel. In an effort to reassure travelers, an increasing number of travel and hospitality companies are partnering with household names in cleaning and health.
Recently, United Airlines launched United Clean Plus, a partnership with Clorox and the Cleveland Clinic. By bringing together a trusted name in cleaning and one of the country's leading medical experts, United is sending a signal to customers that they're taking action to make travel safer.
"Safety has always been our top priority, and right now in the midst of an unprecedented crisis, it's our singular customer focus," said United CEO, Scott Kirby, in a video message to customers. "We recognize that COVID-19 has brought cleanliness and hygiene standards to the front of customers' minds when making travel decisions, and we're not leaving a single stone unturned in our pursuit to better protect our customers and employees."
Key takeaway: In the wake of the pandemic, meeting customers where they are has a lot to do with anxiety – about health, safety, cleanliness, and just about everything else. This a unique opportunity for complementary businesses to band together and use their brand's unique value proposition to strengthen each other's message.


5. Ulta Beauty uses virtual try on to remake the beauty sampling experience
Ulta beauty is the largest US-based retailer of cosmetics, fragrance, and skincare. They offer more than 20,000 products across 500 different brands, as well as in-person salon services.
The beauty industry is worth about $27 billion with 49% of it controlled by Ulta and Sephora. Before the pandemic, both companies were known (and loved) because they let customers try out all the sample products and had beauty associates on hand to give advice. Now, with communal samples and close contact out of the question, Ulta has pivoted to embrace emerging tech as a way to maintain market share and give themselves an edge.
Their app offers personalized content, trackable rewards, online shopping and curbside pickup. And it also has GlamLab, a powerful virtual live try on experience which can do everything from match your foundation to your skin color to testing out different lipstick shades–things which used to be the provenance of physical samples.
"Since the crisis began, guest engagement with the tool has increased nearly five times, and more than 30 million shades have been tested virtually," CEO Mary Dillon said during the company's first-quarter earnings call.
Thanks to Ulta's robust digital presence, analyst firm Piper Sandler was optimistic about its potential to bounce back from the pandemic. "We see green shoots for the industry (skincare, haircare) on the other side of CV-19 and see ULTA's digital ecosystem as fueling higher average spend per customer," it stated.
During the Q1 earnings call, Dillon also noted that expanding the different ways to shop– online, in store, curbside – will help drive customer loyalty and is proven to create more profitable customers. Ulta also plans to use the Ultamate Rewards Program to provide customers with a more personalized experience through the use of AI and analytics.
By strengthening their digital ecosystem, Ulta has found a way to remain true to the core service they offer their customers, even if it looks a little different.
Key takeaway: An agile pivot lets you focus on new strategies or even enter entirely new domains while still remaining true to the mission of your company and the core service you offer your users.


Meet your customers where they are
Covid-19 has created a huge shift in how customers think, feel, and behave. No one knows exactly what's in store for the future – which behaviors will be lasting and which will pass with the crisis. But the companies who have found the most success during this time of upheaval are the ones who have used the tools, resources, and ingenuity at their disposal to meet customers where they are now.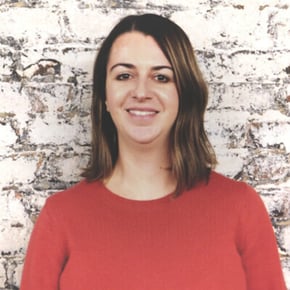 Mary Lague
Mary is the VP of Research at Pilot44 and leads our research and insights group. She brings over a decade of market and consumer research expertise spanning business and product innovation. Known for her strategic insights and forward-thinking approach, Mary is dedicated to guiding brands toward successful innovation and sustainable growth. She is a seasoned advisor in helping global brands spot disruption and a trusted ally in navigating change.