Shopping has always been an inherently social activity when it comes to physical retail. With the rise of e-commerce and social media, it's no surprise that consumers are looking to replicate this social connection when they're shopping online.
The big social platforms are all competing to become leaders in social commerce, adding new features for sellers and consumers to make the experience both entertaining and seamless. Brands will need to adapt as shopping online is now about more than driving transactions. It's about creating a social experience and tapping into the power of the communities forming on these platforms.
Social Commerce is About Meeting Consumers Where They Are
Whether TikTok, Facebook or Instagram is your app of choice, consumers are spending a lot of their time scrolling their social media feeds. So it's only logical to allow them to discover new products and brands and to shop all in one platform. Instead of redirecting customers to an online store, sales take place directly on the platform itself, often in 1 click. This method of commerce brings a seamless shopping experience for customers, reducing the number of steps they must take to make a purchase, and increasing the likelihood of conversion. But it's not just about convenience – social commerce creates spaces for interaction and engagement for brands.
The future of shopping is social and interactive!
The blend of the digital and physical worlds ensures that consumers can experience products even before they hit the "buy' button. As this world of social commerce evolves, the traditional shopping cart is transforming into a stage, a playground, a theater.
''The e-commerce experience has always been about bringing the best deals to the right audiences as efficiently as possible. However, consumer purchasing habits are evolving, and people are looking to be delighted online. Nobody wants to be sold to, but everyone will say yes to being entertained.''
- Sam Singh, VP of Global Business Solutions, TikTok
As brands increasingly adopt social media checkout and shopping features, they're connecting with younger generations (Millennials and Gen Z) already attuned to influencer content who engage more frequently with social commerce. This creates a huge market opportunity.
Rising Social Commerce Trends
As the popularity of social commerce grows, several trends have emerged. They're not just shaping how businesses operate, but also how consumers shop.
The rise of Creators and Micro-Influencers
The focus is shifting from big retailers to individual sellers, favoring direct interactions over generic mass retailing. Individual creators and "micro-influencers" are on the rise, connecting directly with consumers on social platforms, building trust and engaging with their communities daily.

For brands, the growing importance of those influencers is a great opportunity for partnerships. Enabled by digital tools, the new-age entrepreneurs are very efficient in scaling their reach – 45%

of surveyors (Gen Z) bought from a creator last year.




Immersive experiences
AI is changing the game for e-commerce. Companies invest in innovative tools that allow customers to experience products before purchase – such as virtual fitting rooms or make-up filters. It's been around for quite a while, but now with generative AI, it's undergoing a significant revamp. Take Google's new model that uses "diffusion" and is able to visualize clothes on a wide range of body types.

Another trend worth keeping an eye on is the use of gaming – younger generations use games for more than entertainment, as they also serve as community platforms for socializing and engaging with each other. If this trend continues to grow (like social media usage), it may become a new platform for commerce.
How is the market adapting to evolving e-commerce trends? Let's look at the leading brands' approaches and evolving strategies.
Tiktok, Meta, and YouTube Battle for Social Commerce Supremacy
The biggest social platforms are going head to head to roll out more complete and integrative features that point to a future where social media platforms behave more like retailers. Here are a few of the leading brands using social commerce to their advantage:
TikTok makes shopping easier with in-app purchases
TikTok continues to play a huge role in the market's development. More than 80% of users say that content on the channel influenced their buying choices.
Recently, the platform introduced a comprehensive e-commerce product in the U.S., capitalizing on its youth-oriented user base. Key features include a "Shop Tab" marketplace, affiliate videos enabling creator commissions, and a "Fulfilled by TikTok" logistics service for efficient shipping and storage for merchants.
While over 200,000 sellers and 100,000 content creators already jumped on board, the platform has some issues with attracting more merchants and is using various forms of discounts to draw them in.
TikTok has more than 33 million consumers making purchases on the platform per year – making the buying process even easier is going to have a huge impact on its growth.
Source: TikTok
Meta's push for enhanced ad performance
While TikTok is carving out its space in social commerce, Meta is taking a different path, mainly focusing on advertising to power its commerce ambitions. This strategy was underscored in February when Meta removed the "Shop" tab from Instagram's home feed, marking an end to an experiment that wasn't well-received by its user base. Additionally, Meta decided to wind down its livestream shopping segment on Instagram, given the slow adoption rate of livestream shopping in the US market.
The company recently announced alterations to the shopping journey on both platforms, bringing a series of new features to enhance the performance of ad creative on its platforms, particularly focusing on Reels ads. New functionalities include "Collection Ads," allowing users to smoothly browse a brand's product images, as well as multi-destination ''Reels'' carousel ads, enabling businesses to guide users to various product pages within one ad, potentially driving sales. The "Swipe left" function allows users to swipe for additional information on products they seek, simplifying the shopping process and transitioning them from mere viewers to active shoppers.
Source: MediaPost
YouTube focusing on affiliate program
YouTube has shifted its e-commerce strategy, discontinuing its product tagging feature in favor of expanding its affiliate program to all creators, allowing them to earn commissions from products shown in their videos.
This move aims to capitalize on creators' influence, especially as a significant portion of US consumers begin their online shopping journeys on YouTube, surpassing platforms like Instagram or TikTok. The company seeks to leverage its robust creator-consumer relationship to drive purchases from viewers looking for shopping inspiration.
Google using the power of influencers in new 'Perspectives'
Google is stepping up in the social shopping realm as well, recognizing the growing importance of influencer-generated content, even during the AI revolution. Alphabet's Google introduced "Perspectives," a feature that will display YouTube videos from influencers alongside conventional search results when users search for specific topics like shopping and travel. This move is particularly strategic for Google, targeting younger demographics that lean toward video-based content, and countering TikTok's growing popularity.
Retailers Are Also Stepping Up Their Social Commerce Capabilities
The retail landscape is rapidly changing with the rise of social commerce. Brands are stepping up their social commerce capabilities to meet the demand for more engaging and personalized shopping experiences. Multichannel campaigns are targeting wider audiences and optimizing for better conversion and brand awareness. Consumers now find shopping inspiration and products directly on their preferred platforms, signaling a shift toward a more social and interactive retail environment.
Amazon introducing video shopping feature
Amazon launched "Inspire" for US users – a feed of shoppable videos and photos accessible directly from the app home screen and populated with influencer content. It's a personalized shopping experience curated to customers' preferences, where dreamed-of products are now literally just "a tap away."
Users can discover new products and find shopping inspiration within the app, then easily make purchases on Amazon. The content is generated by creators, primarily those enrolled in the Amazon Influencer Program and brands participating in the Brand Registry. Regular customers can also contribute through product reviews, which can be featured in the video feed.
This move is Amazon's response to the growing trend of social commerce, as users increasingly seek shopping inspiration and the ability to make purchases directly within the platforms they use.
Boots targeting a wider audience with multichannel campaign
Beauty retailer Boots has announced its value-driven campaign, promoting the advantages of its loyalty card. Titled the Best for Less campaign, it highlights how consumers can save money and aims to reach 51 million UK adults via various paid media channels. The campaign allows users to directly access product pages from ads on Meta and TikTok. The company has been experimenting with shoppable ads for the past 18 months and is now focusing on optimizing the format for conversion and brand awareness.
Boots was the first European beauty retailer to test TikTok's Video Shopping Ads and will continue to use this format alongside Meta's Advantage Placements. This move aligns with the growing trend of younger consumers shopping via social platforms and helps Boots reach the next generation of shoppers while promoting its Advantage card.
Walmart introducing shoppable content: the Creator Platform's debut
Walmart is taking a bold step into the world of creators with the launch of the Walmart Creator platform. It's a one-stop solution that's all about making it easy for anyone to monetize products from Walmart. The platform provides access to a wide range of products, allowing creators to earn revenue and commissions by sharing links on their preferred social platforms.
By empowering creators to connect their content with Walmart's product offerings, the retailer aims to foster inspiration and make shopping more seamless for its customers. Currently, the platform is in beta testing that was launched directly before the holiday season to give creators a chance to earn while refining features before a full launch later this year.
This move is part of the company's ongoing efforts in social commerce, reducing the time between product inspiration and purchase for shoppers. The Walmart Creator platform reflects a broader trend where retailers are recognizing the potential of creators in driving engagement and sales in the digital age. It signifies the company's commitment to innovation and customer-centricity in the ever-evolving world of retail and social commerce.
Embracing Social Commerce for Business Growth
With its immense influence, social shopping has carved out an integral role in the future of e-commerce. It's no longer an optional strategy, but rather a necessity for any business looking to thrive in the digital age. Even small businesses and startups are starting to leverage social platforms to reach a wider audience, compete with larger brands, and drive sales.
As social media continues to grow and evolve, so will the opportunities for businesses to engage with customers and drive sales.
Embracing social commerce isn't just about staying relevant. It's about enhancing the customer experience, driving engagement, and ultimately, growing your business.
Don't know where to start? Have a chat with us! We'll explore all possible innovation ideas for you to step into the new social commerce realm with ease.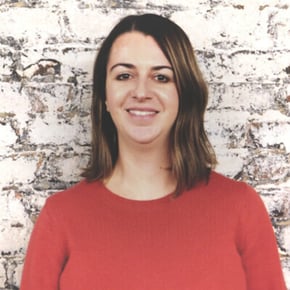 Mary Lague
Mary is the VP of Research at Pilot44 and leads our research and insights group. She brings over a decade of market and consumer research expertise spanning business and product innovation. Known for her strategic insights and forward-thinking approach, Mary is dedicated to guiding brands toward successful innovation and sustainable growth. She is a seasoned advisor in helping global brands spot disruption and a trusted ally in navigating change.