The digital economy boomed during the COVID-19 crisis. As people who embraced social distancing turned to eCommerce more than ever, speedy fulfillment and distribution became an expectation of every online shopping experience.
Stepping up to the challenge required retailers to embrace emerging technologies and experimental supply chain models to increase volume, expedite deliveries, and satisfy customers — all while trying to cut costs. A daunting task only escalated by Last Mile (or final mile) Delivery.


What is last mile delivery?
In a product's journey from the warehouse shelf, to the back of a truck, to a customer's doorstep, the "last mile" of delivery is the last leg of the supply chain. In addition to being key to customer satisfaction, it is the most expensive and time-consuming part of the shipping process.
If you've ever tracked a package in real-time online and saw that it was "out for delivery" for what seemed like forever, you already understand why efficiency is a significant problem in the last mile.


The convenience CPG economy is booming.
More than ever, the convenience CPG (consumer packaged goods) economy is surging. Before the impact of COVID-19, UBS estimated that the online food delivery market would grow 70% to $365 billion by 2030. However, the pandemic threw eCommerce ages forward with almost no advanced notice, and now what was expected to take place within the next 5-10 years happened within 6-12 months.
Fueled by rising consumer expectations for faster delivery and more convenient options, last mile delivery has become mission-critical for brands and the logistics providers who deliver for them. In response, major players (e.g., Walmart and Amazon) and startups alike (e.g., Doordash, Instacart, GoPuff) are setting new expectations for fulfillment speed, cost, and convenience.
Online Grocers, Grocery Delivery Services, Meal Delivery Platforms, and Last-Mile Delivery are experiencing massive growth. But while brands need a presence in all four channels, there is no "CPG brand-ready" infrastructure set up for Last-Mile Delivery.
To remain competitive, retailers and marketplaces must improve their logistics operations and last mile delivery services.


Why CPG brands should care about last mile delivery.
In addition to increased sales, last-mile delivery allows brands to:
Target key demographics: Meet the increasing home delivery needs of key demographics – Millennial and Gen Z urban-dwellers who want products to travel quickly a fulfillment center to their door.
Make a positive impression: The last mile is a crucial part of logistics because if the last mile doesn't go well,

customer experience suffers

. Customers don't see the supply chain process before the last mile and will likely only remember how it got to their hands.
Increase brand exposure: Get direct exposure to existing and new consumers via today's most popular delivery apps, resulting in greater brand awareness and relevance.
Unlock advertising opportunities: Partners like GoPuff, Instacart, and Doordash have begun advertising and paid search offerings, enabling brands to boost their visibility and stand out from the competition.
Create new sources of revenue: Create an additional revenue stream for existing business lines by opening a new channel.
Avoid expensive mistakes:

When the final part of delivery accounts for

53% of the total cost of shipping and 41% of total supply chain costs

, you won't want to fudge this process.


4 last-mile delivery solutions brands should consider.

National On-Demand Delivery
There are two main types of last mile delivery: scheduled and on-demand.
Scheduled is when a customer places an order to be delivered within a day or two, or even a week later. On-demand delivery, on the other hand, is when an order must be delivered the same day or ASAP (such as food and restaurant delivery).
On-demand food delivery apps are not just required to streamline the whole process, but they enable functions and features that are beneficial to both brands and consumers, including multi-drop food delivery (allows delivery to handle more customers at the same time, shortening delivery times while increasing revenue), electronic proof of delivery (ensures the order has been delivered to the correct customer), and real-time tracking (enabling customers to get the correct time estimate for their delivery). According to a PWC report, on-demand apps are expected to reach approximately $335 billion by 2025.
On-demand delivery providers, including Doordash, Instacart, 7Now, Go Puff, Uber Eats/Postmates, and Shipt, help brands eliminate in-house delivery costs and the hassle of logistics, all while meeting customers' needs for convenience.
Spotlight Doordash:
Doordash, for example, began operating in 2013. It offers on-demand delivery from retailers, dark stores, and ghost kitchens (learn more below) in as little as 30 minutes to 1 hour. In 2021 Doordash went public. Valued at $72 billion, it had more than the market capitalization of Domino's Pizza and Chipotle Mexican Grill combined. The company raised $3.4 billion, making it one of the year's largest I.P.O.s. It now touts more than 20 million active consumers.
Virtual Convenience Stores (or virtual c-stores)
Virtual convenience stores are exactly what they sound like, access to basic household essentials offered by regional and national retailers— on demand, delivered straight to your doorstep. While virtual c-stores don't always provide a wide array of brand options a regular grocer may carry, their convenience and efficiency continue to win customers over.
Spotlight Instacart:
Instacart is a major player in the virtual c-store category. In September 2021, Instacart launched their Convenience Hub, a virtual convenience store service offering delivery of fresh groceries and household staples as fast as 30 minutes. Since then, Instacart has partnered with major national grocers and pharmacies to launch new virtual convenience storefronts that help streamline ways for consumers to get the last-minute items they need. According to the online grocery giant, convenience remains one of the top categories in its marketplaces, as demand for rapid delivery continues to grow, with nearly 20% of customers selecting "Priority Delivery" at checkout.
In November 2021, Southeastern supermarket giant Publix launched Publix Quick Picks, an Instacart-powered online convenience store across its seven-state market area. The virtual storefront lets customers shop for groceries and household essentials from Publix and receive them as soon as 30 minutes. Similarly, Instacart and Kroger launched Kroger Delivery Now. The service offers 25,000 items and reaches up to 50 million households.
Instacart also announced that 24/7 delivery will be available at selected retail partners, including 7-Eleven, Walgreens, CVS Pharmacy, Rite Aid, and Safeway locations. With this service, the company is also extending late night and early morning hours for retailers that aren't open 24 hours a day.
Urban Ultrafast Delivery
Just as Amazon transformed the market with the launch of free 2-day delivery, ultrafast delivery startups, including BuyK, Gorillas, Getir, GoPuff, JOKR, and Fridge No More, are looking to push the envelope even further, offering delivery of snacks, toiletries, and other typical convenience store items in as little as 10 to 30 minutes.
In contrast to Instacart and other hyperlocal delivery services that offer same-day delivery by fulfilling orders from stores operated by legacy retail partners, these new ultrafast delivery services use their own fulfillment centers, commonly referred to as "dark stores." These micro-fulfillment centers are set up like mini-stores and are located close to end consumers, enabling orders to be fulfilled and delivered within a matter of minutes.
Spotlight JOKR:
JOKR, a grocery and delivery platform that provides an assortment of grocery and retail items to customer doorsteps in less than 15 minutes, leverages a network of dark stores that sell/stock directly out of small neighborhood locations. This enables the company to combine global suppliers' favorite products with local creators/retailers (and minimize waste!).
But the business model is fickle and under strain. While VCs poured over $8 billion into rapid-delivery companies globally in 2021, according to PitchBook, within a few months into 2022, that optimism seemed to have died. Fulfilling promises of speed can get expensive. With competition increasing as more established companies like Doordash and Instacart enhance their rapid delivery models, many ultrafast providers are being forced to tweak their business models to focus on something other than speed (e.g., explore offering their own private-label brands) or exit the market altogether.
In March 2022, Fridge No More Inc., a JOKR competitor, went out of business despite generating a record $3.2 million in revenue the month before and projecting a 1,600% annual increase from the previous year. In June 2022, JOKR announced that it is closing its U.S. operations. In July 2022, GoPuff announced its plans to lay off 10% of its workforce and consolidate its footprint in response to the looming recession.
The ultrafast last mile is undergoing a period of retreat and restructuring. It's unclear who will survive long enough to become a reliable channel partner.
Ghost Kitchens & Virtual Restaurants
Born out of the unprecedented consumption of food delivery during COVID, ghost kitchens and virtual restaurants are the backend fulfillment infrastructure of delivery-only restaurants. Depending on the business, companies may provide kitchen space or platform software that matches a food provider's existing capacity with "virtual restaurants" – brands that can only be enjoyed by delivery or rotation at food hall-type establishments.
According to Hospitality Technology, ghost kitchens were a $43.1 billion industry in 2019 and are expected to reach $71.4 billion by 2027.
Spotlight CloudKitchens & Reef Technologies:
Examples of ghost kitchen facility providers include CloudKitchens and Reef Technologies. Both focus on transforming open spaces (e.g., urban real-estate, parking facilities) into multi-purpose places that support the on-demand economy. These facilities are outfitted with commercial kitchens and storage facilities designed for speed, quality, and scale, making it each to launch a delivery restaurant with lower risk and capital.


Brands can now "plug-in" & pilot last-mile delivery.
Online ordering underwent transformational growth during COVID, magnifying just how critical last mile delivery is in delighting customers. It has become clear that the last mile economy is here to stay, and CPG participation is no longer a niche growth opportunity but a strategic imperative.
Pilot44 can help CPGs shape their last-mile delivery strategy and leverage our global partner network to activate in-market programs across the end-to-end last mile value chain. We have developed a proven model that has delivered last mile pilot programs for top CPG brands, including food, ice cream, and household staples.
Contact us today to learn how Pilot44 can help you rapidly develop your last-mile delivery strategy and value proposition.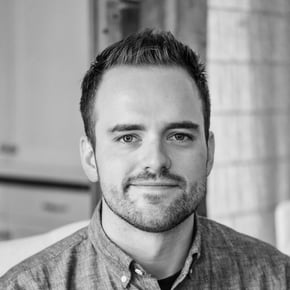 Aaron Rutherford
Aaron is a proven digital innovator and business operator. He has over a decade of experience partnering with business leaders to accelerate growth in dynamic business environments - from startups to global brands. He is a trusted partner in navigating change and delivering creative solutions at the intersection of disruptive technology, experience strategy, and business design to unlock new customer value and brand growth.