5 Ways To Win In-Game Advertising, Beyond Banner Ads & Videos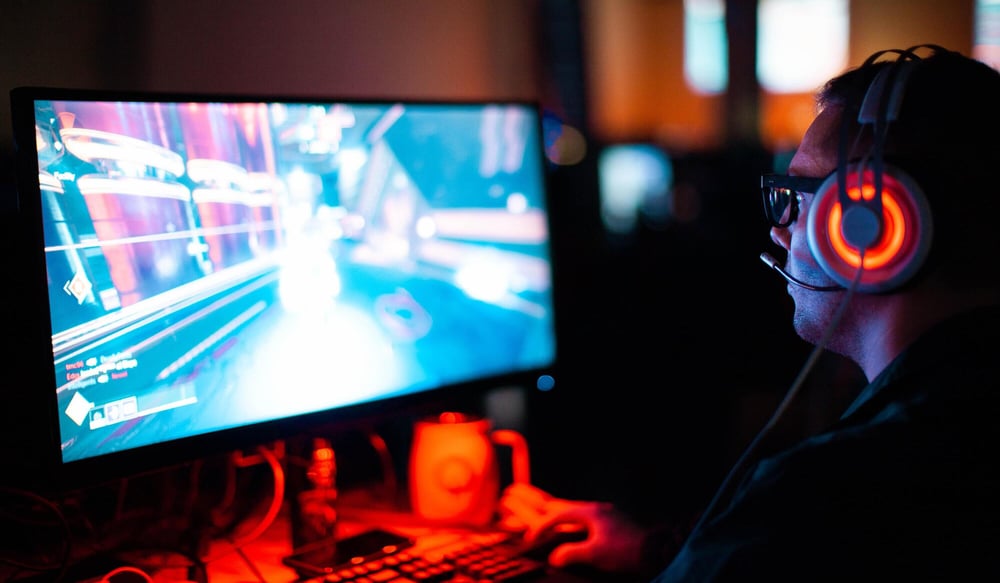 The global gaming market is bigger than the film and music industries and is projected to become a $300B annual industry by 2025. Major advertising players realize that there is something to this growing community of worldwide gamers — gamers who, despite stereotypes, aren't always teenagers living in their parents' basements but are instead, on average 34 year-olds with stable sources of income.
This is why in-game advertising is becoming a marketing tentpole. In-game advertising allows brands to reach and generate conversions with gamers in the games they play without interrupting gameplay by inserting traditional ads in natural places or rewarding players with gear, more lives, etc., for watching a video. Adverty's research found that well-delivered in-game ads offer numerous benefits, including a 31% more positive user experience than web display advertising. A YouGov study from The Drum found a fifth of people had bought a product they saw in a gaming ad. And many were happy to view ads to access games for free.
On mobile alone, in-game ad revenues will reach $6.26 billion by the end of this year, and the global in-game advertising market is expected to reach $18.41 billion in the next five years.
Considering 73% of gamers would welcome more advertising – if done right – it's up to brands to advertise on gamers' terms by rewarding attention and enhancing the gaming experience. However, typical methods for getting into these games, such as banner ads or video advertising, are seen by gamers as intrusive and void of a positive brand experience. Consequently, many brands are now moving beyond in-game advertising to seamlessly integrate their brands and products into gameplay.
In this ever-changing digital landscape, there are still opportunities to win at in-game advertising.
Not all gaming is created equal.
For advertisers that want to get started with gaming, it's essential to understand that not all gaming opportunities are the same. If brands consider that games are not just games anymore but social networks with immersive experiences, it'll be easier to integrate advertising into these spaces.
In such an opportunity-rich space with various activation types, it may be challenging to figure out exactly how to identify the best opportunities for activation. That's why it's important to understand what it takes to win at in-game advertising and how a brand can set itself apart from the crowd to engage with consumers authentically. Through our own experience and research, Pilot44 has identified five strategies to help brands win at in-game advertising space.
Let's review the strategies, take a look at use cases, and meet some of the startups helping brands power winning solutions……
Strategy #1 Advertise on gamers' terms
Advertising in gaming is in itself disruptive. It breaks up the gamer's flow and, when done incorrectly, can even tarnish the gamer's experience. That's why knowing where and how to advertise in-game is important. In mobile gaming, this often makes ads voluntary in exchange for a reward, such as an extra life, free items, or additional in-game currency. This way, gamers are not interrupted during their gameplay, and the positive reinforcement of the reward can often leave gamers feeling the ad experience was positive.
Brands can also include ads where gamers are more open to them, such as on loading screens or tying the brand to an exclusive item offering and extra perks available in-game stores. Rewarding attention and enhancing the gaming experience will generate the highest quality engagements.
Use Cases
➜ In Game Rewards: In their Moschino x Sims activation, the luxury Italian fashion brand created virtual merchandise in an item pack that helped users unlock new clothes and new career paths in the fashion space. Circle K turned its store locations into Pokestops and Gyms where players could earn coupons to be redeemed in Circle K stores for items like coffee, K Freeze, hot dogs, gummy bears, etc.
Moschino x Sims Activation and Pokemon Go Cirlce K PokeStops and Gyms
➜ Monetizr is a rewards platform that helps brands engage gamers and convert them into customers. Brands can sponsor in-game rewards like content, experiences, boosters, brand product merchandise, loyalty points, exclusive offers, discount codes, etc.
➜ Scuti
is a rewards-based gamers' marketplace that allows brands to engage players directly and sell products and services through a gamified and rewarding shopping experience. It allows players to buy real-world products within a game and get rewarded for every purchase. Rewards can then be used as in-game credits, exchanged for NFTs in any of the games in the Scuti network, or redeemed for physical products.
In-game advertising can be an excellent channel for generating conversions – companies like Monetizr (mentioned above), which specialize in integrating brands into games on branded levels, boast average conversion rates of over 4%. And 48% of all mobile gamers report purchasing from a brand they've seen or interacted with in a game (~60% for Gen Z and Millenials). That said, in-game advertising should not be looked at as strictly a conversion play.
The nature of in-game ads and how brands can integrate them create unique branding opportunities for deeper and longer-lasting engagements than typical social media ads. In-game advertising done right can be great for generating brand lift and increasing brand sentiment.
Most gamers (66%) respond positively to brands in-game, but they want to make sure the brand makes sense for the game they're playing (or at least it rewards them for their time). By putting in the time to ensure the ads and rewards make sense in the context of the games, brands can lock in conversion opportunities while increasing brand sentiment and consumer favorability.
Use Cases
➜ In Game UGC & Branded Goods: Cottonelle developed wallpaper designs to help AnimalCrossing players give their bathrooms makeovers leading to a 58% increase in YOY bathroom tissue sales.
➜ Purchase Virtual Real Estate: French supermarket Carrefour purchased a plot of land in the Sandbox metaverse. They plan to make the area the heart of their metaverse activities as they experiment to understand the evolution of retail and consumption.
➜ Bespoke Branded Worlds: Shoe and apparel brand Vans, created a "Vans World" Skatepark experience in the Roblox metaverse. In an effort to continuously evolve the community with events linking the physical and digital, players can explore different skate sites, learn and land new tricks and collect waffle coins to unlock new gear. They can also create custom Vans shoes.
➜ IP Licensing: Even though it is said that Wendy's did not intentionally collaborate to create a Wendy's skin in Fortnite Chapter 3, Season 2, the similarities of the new character to the Wendy's icon secured the brand positive press, added credibility, and engagement among the Fortnite community.
Startup Partner Spotlight
➜ Gylee Games helps brands create big worlds and intriguing characters that evolve and mature over time.
➜ IF7 serves as a conduit for brands and agencies to the world's most innovative Gen Z media properties. Their services range from upstream revenue strategy and implementation to brand partnerships.
Strategy #3 Use in-game audio ads to drive engagement and create conversion opportunities

Audio Ads provide a rare opportunity for brands to speak to gamers during games without interrupting gameplay. Audio-based in-game ads are a bit newer in the space but are quickly gaining traction. They provide ways for brands to interact with users without interrupting gamers while also allowing them to speak directly to gamers to help invoke an emotional response.
Use Case
➜ Audio Enhanced Banners: Biotech company, GlycanAge looked at getting users over 30 to purchase an innovative bioTech kit to test biological age and wellness. They placed Audio Enhanced Banners in games enabling GlycanAge to speak directly to its targeted audience without preventing them from playing a given game. The campaign targeted general health-conscious users and health clinic professionals – elevating GlycanAge's B2B strategy. The click-thru rates of their ads increased by over 1300% compared to non-audio formats.
Startup Partner Spotlight
➜ Audiomob creates in-game audio ads that allow brands to connect with audiences without gameplay interruption.
➜ AudioGO is a self-serve advertising platform that makes it easy to create, schedule, and run audio ads – wherever a brand's customers listen.
Strategy #4 Use Virtual Out-of-Home (VOOH) ads to reach gamers where they are

Ironically, a newer and less intrusive kind of in-game advertising draws its inspiration from traditional advertising methods. Resembling billboards, VOOH ads are bought digitally – sometimes wrapped up in cartoonish visuals – and can be targeted broadly and on a one-to-one basis, unlike real out-of-home (OOH). Native advertising through VOOH allows brands to reach gamers more covertly than traditional video ads – think adverts across billboards, sports arenas, walls, jerseys, and more within the games themselves. This form of advertising also provides avenues into larger, harder-to-reach gaming audiences, like Fortnite, Fallout, and sports-arena-style games. While still young, top brands are using these opportunities to enter gaming worlds, and leading ad networks are assembling teams with this type of media buying expertise.
In Using VOOH, brands must make sure they know their audience and the game to provide an authentic portrayal of the brand in the context of the game and the gamer's profile.
Use Case
➜ In-Game Billboards: Convenience store brand 7-Eleven partnered with Anzu in a campaign to get customers back into their stores post lockdown and position 7-Eleven as a destination for cold/frozen drinks. Centered around the iconic 7-Eleven Slurpee, the brand placed ads on in-game billboards across multiple games. This campaign saw an 86% increase in top-of-mind awareness and led to increases in brand consideration, awareness, and purchase intent.
Startup Partner Spotlight
➜ Anzu is an in-game advertising platform that enables developers to monetize their games and advertisers to reach players across mobile, PC, console, and the Roblox metaverse with non-disruptive ads that are part of gameplay.
Strategy #5 Go beyond ads with authentic and personalized engagement
Creating creative, unintrusive, and highly engaging in-game ads are only part of the conversion equation. Audience interaction beyond ad engagement is just as critical. Developing targeted, cross-channel marketing campaigns and optimizing lead generation activities are some follow-up tactics that help brands seal the deal on conversions. However, these tactics must be highly personalized. Gen Z and Millennial audiences especially crave these types of connections from the brands that contact them, so any post-ad follow-up campaigns should be specifically catered to them and their interests.
Gaming audiences also seek authenticity and community, and there are other channels brands can leverage to deepen relationships with their consumers, quickly and successfully. Doing this well takes effort and resources to regularly interact with users and provide value beyond the brand. In doing this, some brands are starting to create Discord Servers, Web3-focused community-based social platforms, to engage with more tech-savvy users.
Use Case
➜ Discord Server: Samsung launched its US Discord server earlier this year. The virtual channel serves as a connection hub for fans, gamers, and creators to win exclusive digital products, VIP access to events, non-fungible tokens (NFTs), daily giveaways to reward user engagement, and more. It reached more than 100,000 members within the first 12 hours of launching.
If you made it to this point of the post you likely understand that winning at In-Game Advertising is like tackling a tricky dungeon or sinking an enemy battleship. Game marketers must adopt an inventory of tools, tactics, and partners to seize the day. Working with Pilot44 is one of the fastest, most effective ways to do just that. We help brands understand emerging technologies and market trends by going straight to the source – the VCs, entrepreneurs, and technologists inventing tomorrow's solutions today. Together, we help brands run fast-cycle, in-market pilots that provide opportunities to stand out from the crowd and engage audiences in new and inventive ways.
Contact us to learn how Pilot44 can help you win in in-game advertising.